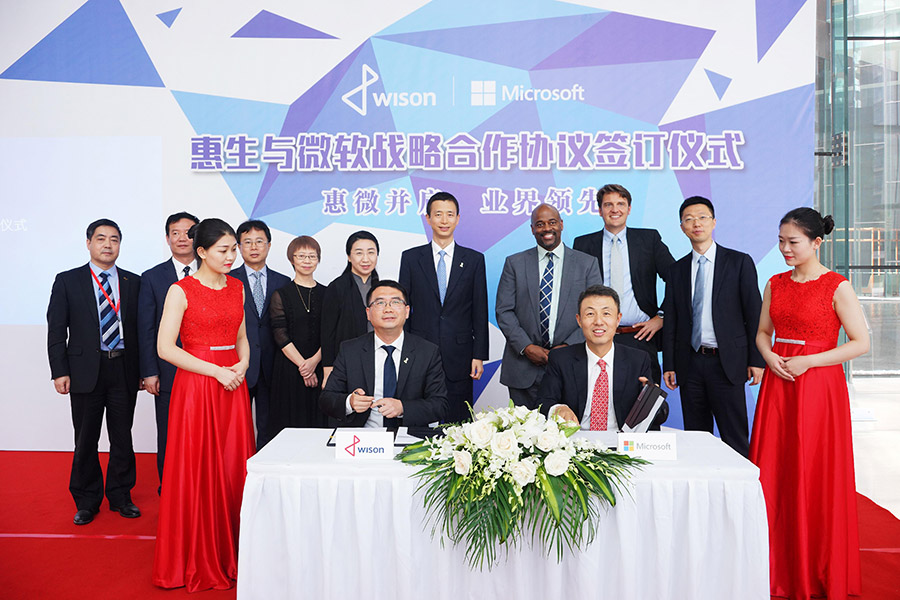 May 11, 2018, Shanghai - Wison Group Holding, Ltd. and Microsoft (China) Co., Ltd. announced a strategic cooperation agreement to create the Wison's new "Digital Wison Platform". To be developed jointly by two parties using the latest digital technologies, such as cloud computing, big data, artificial intelligence, and mixed reality, Wison's new platform will help the company drive its compreh ensive digital transformation strategy for the future. Strategic cooperation between Wison and Microsoft will also enable the development of a digital platform benchmark in the energy and chemical sectors and industry in general.
"Strategic cooperation with Microsoft marks the further step in Wison's digital transformation strategy", said Mr. Bangsong Hua, Chairman of Wison Group Holding Ltd., By integrating the latest technologies such as artificial intelligence and big data with state of the art manufacturing practices, our mission is to build a new business model and service platform that can derive greater value for customers and partners both upstream and downstream in our industrial chain."
Rodney Williams, Vice President of Microsoft Global Corporate Services, who attended the signing ceremony, commented, "Digital transformation, driven by emerging technologies including cloud computing, big data, AI, and mixed reality is bringing great opportunities to every business and industry around the world. China is the most innovative and dynamic market in the world, and the energy industry is leading digital transformation in China. Through the strategic cooperation, we hope to give full play to Microsoft's advantages in technology and platform, with Wison's influence and vision, we will build a bright future for China's energy and chemical industry."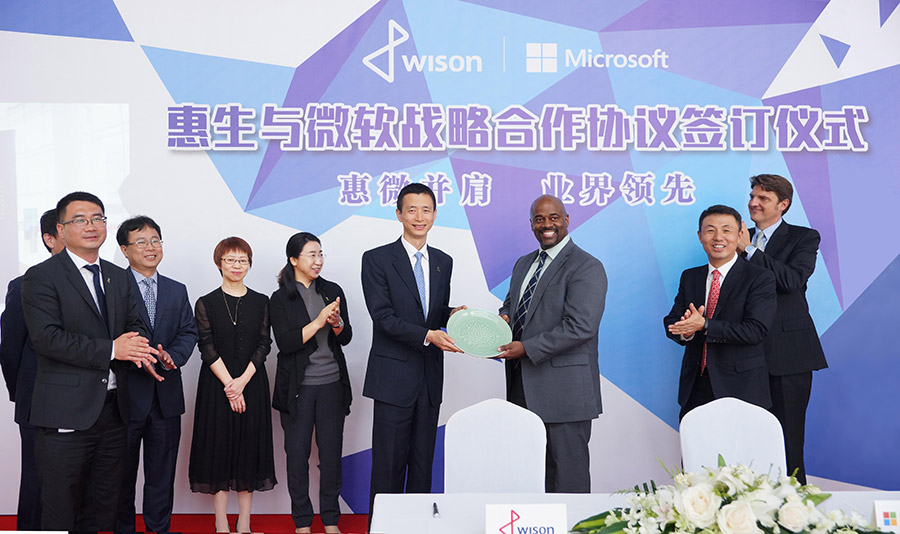 With 20 years' experience as a China-based multinational company specialized in the energy and chemical industry, the Wison Group is ready to embrace a new era of digitalization to complete its strategic transformation in anticipation of future opportunities promised by China's "One Belt and One Road" initiative. The goal of Wison Group is to expand China's presence in the international energy industry and boost China's connectivity with surrounding countries as well as provide the world with China's outstanding technologies and services. Digitally transforming Wison's manufacturing enterprise helps achieve this goal.
As a leading technology company, Microsoft is committed to enable digital transformation of every industry and business around the world with its technology and platform in cloud computing, big data, artificial intelligence, and mixed reality. Facing the digital era, Microsoft not only successfully conducted its own digital transformation but also aligns closely with its customers and empowers them with the latest digital technologies.
According to the strategic cooperation memorandum signed by both parties, Wison and Microsoft will focus on the following:
1. Digital Design: Microsoft will leverage HoloLens and mixed reality technology to help Wison designers further develop 3D models in an immersive and visualized manner. With efficient teamwork and sound task distribution as well as collaboration with external partners, Wison's customers will be provided with the best interactive delivery experience.
2. Digital Factory: Wison and Microsoft will harness technologies such as cloud platform, the Internet of Things, and AI to obtain virtual images based on models and objects through "digital twins" solutions. Maintain all aspects of the entire process, realize a real-time, seamless data acquisition, visualization and analysis platform, thus resulting in an intelligent, digital, and flexible factory that is automated, transparent, and flexible, and build world-class intelligent digital factory design, construction, and operation capabilities.
3. Talent Development for Digital Transformation: Talent plays a key role in digital transformation. Microsoft plans to help Wison develop and source human capital required for digital transformation through projects, knowledge sharing, and training programs. The talents will contribute in big data, artificial intelligence, and cloud computing, Internet of Things and other areas.
The partnership with Microsoft is an important step for Wison's digital transformation. The close cooperation between the two parties in multiple fields will lead to the future-oriented "Technological Wison" and "Digital Wison" and create more possibilities for innovation. Wison aims to build an open, cooperative, and win-win ecosystem to bring greater value to customers and establish a successful benchmark for the digital transformation.