(SHANGHAI, Jan. 9, 2019) -- On January 1, 2020 in Jubail Industrial City, Saudi Arabia, Wison Engineering (Stock Code: 2236.HK) and the National Methanol Company (IBN SINA) signed the IBN SINA ATR (Autothermal Reformer) and Methanol Converters project EPC contract. With its technical expertise, abundant experience in local projects and established track record, Wison Engineering stood out among numerous competitors and won the contract. As the very first overseas FEED + EPC project in natural gas based methanol for Wison Engineering, it marks another major milestone for the company. Awarding the project further strengthens the client's recognition on Wison's EPC capability.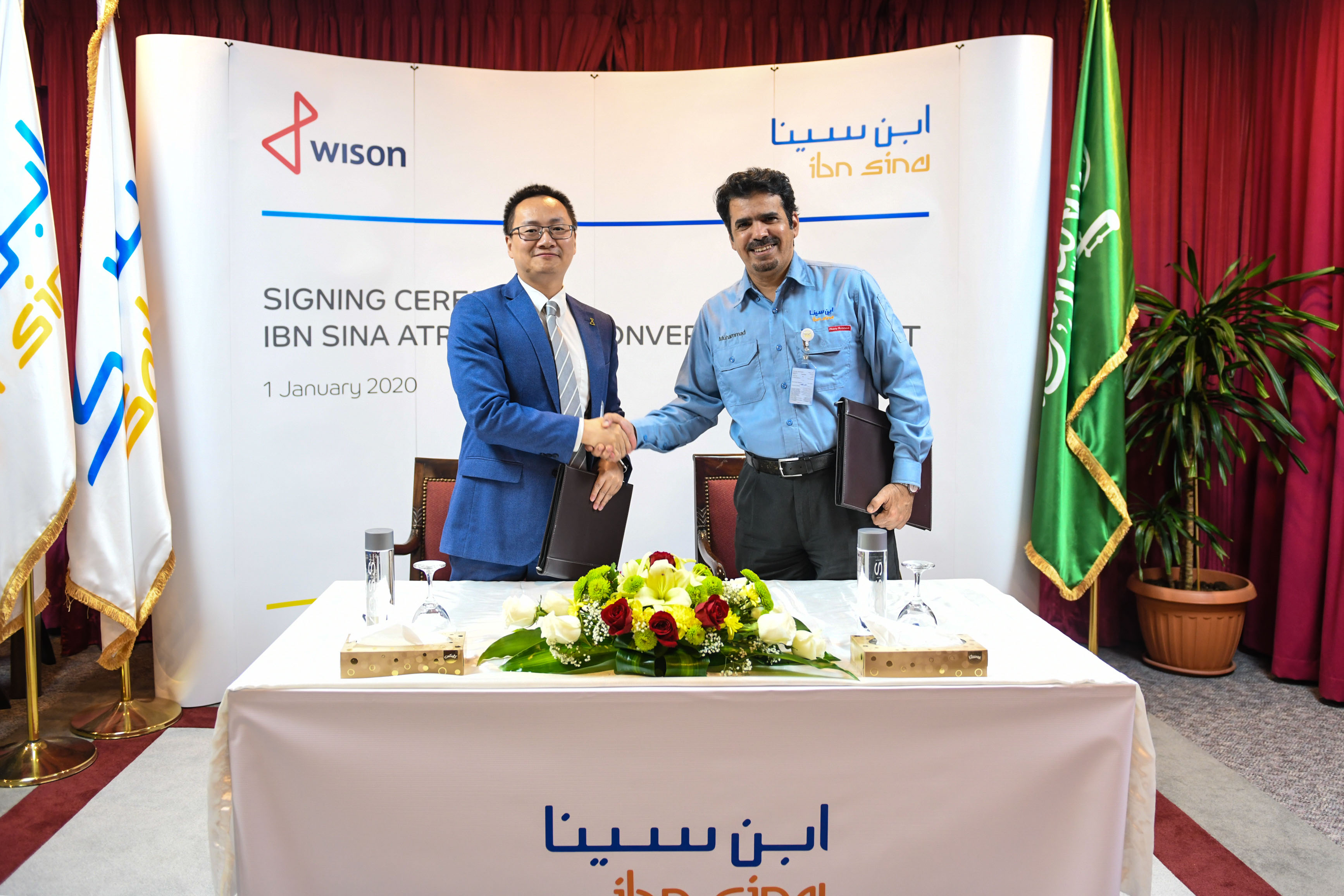 President of Wison Engineering Middle East Zou Yu on the left, and President of IBN Sina Mohammad Al Khaldi on the right
IBN SINA is a manufacturing affiliate of the Saudi Basic Industries Corporation (SABIC). The existing facility was completed and put into operation in 1984, mainly producing methanol and MTBE. Under the current contract, Wison Engineering is to install new auto thermal reformers and methanol converters for reducing the plant energy intensity to meet the new regulation set by the Saudi Energy Efficiency Center (SEEC).
Since its establishment in 1997, Wison Engineering has completed over 200 large and medium-sized engineering projects at home and abroad. Serving an array of sectors such as petrochemical, coal chemical, oil refining, natural gas, public utilities, and fine chemicals, it has now grown into a leading provider of Energy & Chemical EPC services and technology integrated solutions in China. Meanwhile, Wison Engineering has reached sound partnership with many international engineering companies on large-scale projects. Under its global business strategy, Wison Engineering is now operating across Southeast Asia, the Middle East, the Americas, Africa, Europe, etc. with branches in 17 countries and regions.