Wison Engineering (02236.HK) has successfully delivered nine large process modules to its EPC project site in Point Comfort Port, Texas, through roll-on-roll-off operation. These modules weight 3,200 tons in total, among which the single largest module measures 41 meters long, 15 meters wide and 20 meters high. This is the largest module unit completed by Wison Engineering in its North America EPC project.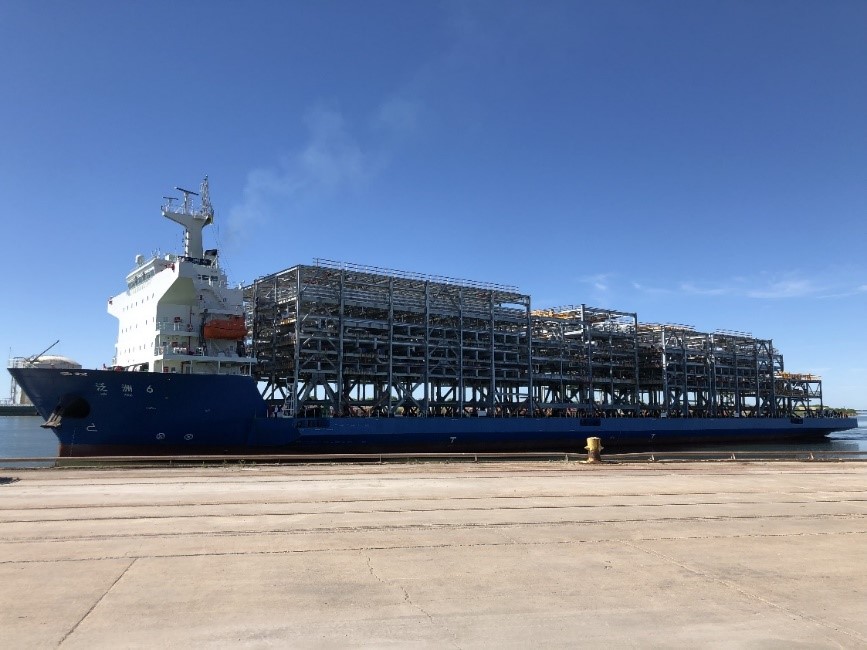 For the first time, Wison Engineering utilized the self-propelled deck barge to carry out trans-ocean transportation of modules. The loading and unloading process was successfully completed by using SPMT (self-propelled module transport vehicle) in roll-on-roll-off operation. To ensure safe and efficient delivery, Wison Engineering design and execution teams worked together and uniquely designed a number of solutions in module structure, reinforcement and many other aspects.
The successful trans-ocean delivery of this batch of modules proves Wison Engineering's capability in managing design, procurement, construction and transportation for the modular EPC project. Wison's efficient project management not only brings the optimum and cost-effective solution for our clients, but also set an example of providing highly efficient and cost effective solution for the industry.
This batch of modules took 92 days to arrive in Texas via the Cape of Good Hope from loading at Wisons Nantong Yard. It sets a historical record of transporting the large modules to the destination port (Point Comfort Port), and it was reported as "history has been made" by a local media.
Project Information
In March, 2018, Wison Engineering (02236.HK) was awarded an EPC contract by a major petrochemical project owner in Texas, USA, for design and supply of modules, bulk material procurement and on-site construction and installation. The project is the largest modularization project undertaken by a Chinese petrochemical engineering company in the North America, and entire project is scheduled to be completed in the first quarter of 2020.
Wison Offshore & Marine, Wison Engineering's sister company, carries out module fabrication at its world-scale module construction yard in Nantong, Jiangsu Province, and also delivery operation.