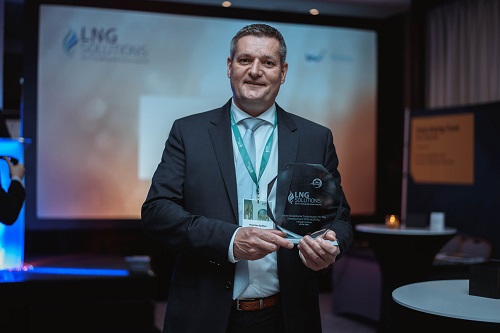 (25th Oct., Shanghai, China) Wison Offshore and Marine ("Wison") wins the award of "Most Exceptional Contribution to the Development of FLNG/FSRU Infrastructure" in LNG Solutions 2017 Fueling the Future Summit held in Nice, France from 24th to 25th Oct., for its successful delivery of Exmar FLNG project. In Sept. 2016, Wison made history that it achieved LNG production onboard a floating facility.
Wison's Senior Solutions Director Mr. Maarten Spilker delivered a keynote speech titled "Practical Solutions for Regional LNG Distribution" at the summit. With his deep insight into the increasing demand for reliable access to LNG and active engagement of LNG sellers to create the demand, he addressed his proposition that as we just started building regional distribution networks, a versatile fleet of vessels and floating storage solutions would be come into service over the coming years. It could be expected to see versatile distribution vessels, milk-run service, innovative bunkering solutions, smart break-bulking and small-scale storage, and large range of vessel sizes. Participants at the summit expressed great interest in Mr. Spilker's speech.
As a global pioneer in delivering innovative floating solutions across the LNG value chain from liquefaction, transportation, regasification, to LNG-to-power, Wison has developed a full spectrum of products including FLNG, LNG-Distributor, LNGC, FSRU, FSRP, bunkering vessel, and so on.