On January 17th, Eni Marine XII Congo LNG project started in Wison (Nantong) Heavy Industry Co., Ltd. ("Wison") Over 200 people attended the opening ceremony, including Mr. Ling Yi, Deputy Mayor of Nantong Municipal People's Government; Ms. Shan Xiaoming, Vice Chairman of the CPPCC Nantong Municipal Committee; Mr. Jiang Qinyang, Deputy Secretary-General of Nantong Municipal People's Government; Mr. Cao Yanhui, Deputy Director of Management Committee of Nantong Economic and Technological Development Zone; Mr. Xu Weibing, Deputy Director-General of Nantong Municipal Industry and Information Technology Bureau; Mr. Lei Xingzhong, Deputy Director-General of Nantong Maritime Safety Administration; Mr. Yang Zhifeng, Chief of Staff of Nantong Immigration Inspection Station; Mr. Liu Hongjun, President of Wison Group; Mr. De Lorenzi Moreno, Project General Manager of Eni; Mr. Andrea Pigozzo, Project Site General Manager of Eni; Mr. Gu Jianguo, General Manager of Nantong Industries Holding Group Co., Ltd.,; Ms. Kong Qin, General Manager of Nantong Investment Management Co., Ltd.,; Mr. Zhang Jing, President of China Construction Bank, Nantong Branch; Mr. Chen Yaming, President of Bank of Jiangsu, Nantong Branch; Mr. Liu Jun, Vice President of Bank of China, Nantong Branch; Mr. Yan Hua, Chairman of Jiangsu Nengda Private Equity Management Co., Ltd.,; Mr. Liu Minsong, Director of Nantong Office of China Export & Credit Insurance Corporation; Mr. Paul Karam, Vice President of American Bureau of Shipping; and representatives from other relevant entities.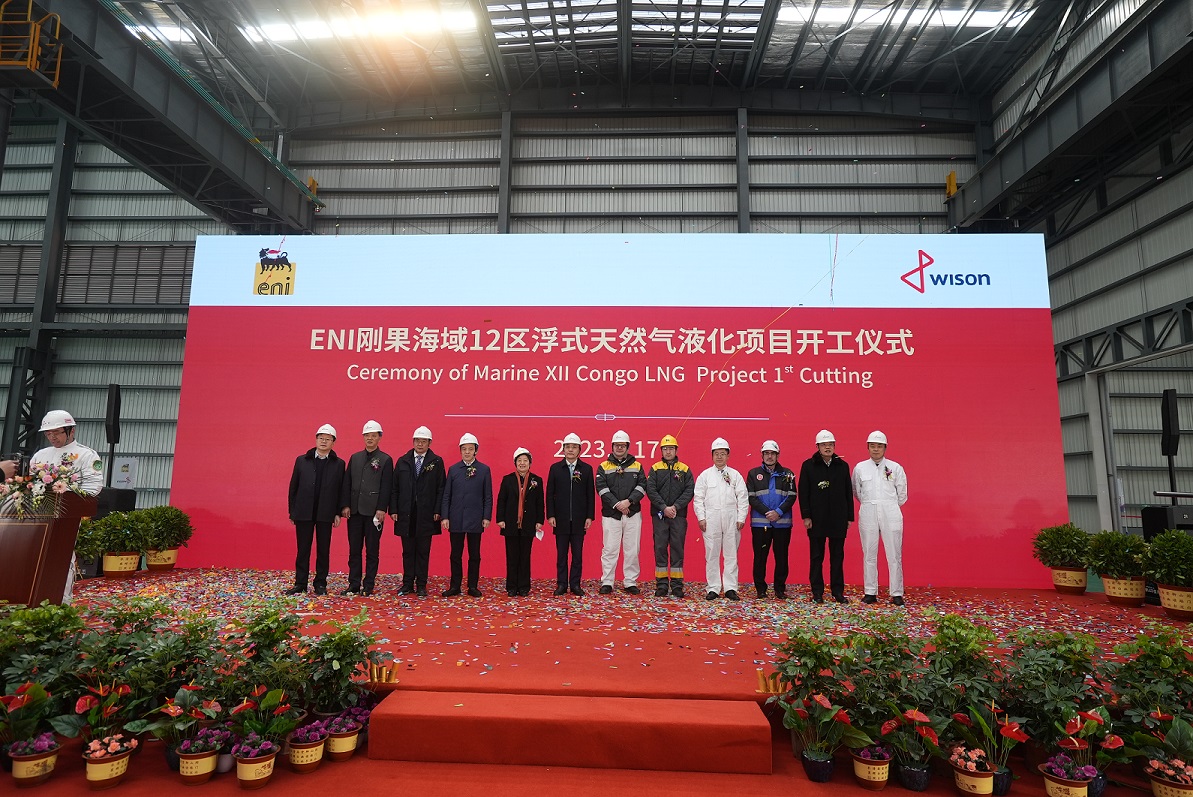 The core of the project is delivery of a 2.4 MTPA FLNG, whose principal dimension is 380m (L) x 60m (B) x 35m (D). It will be moored using a submerged swivel Yoke system in about 40m water depth in the Nene Marine Field area, ~50km offshore Pointe Noire. It will be able to store over 180,000 cubic meters of LNG and 45,000 cubic meters of LPGs.
Mr. Li Zhiyong, SVP of WOM, said, "Thanks to our technical teams for the effort. Since the successful delivery of the first FLNG in 2017, our teams have worked together for years to summarize experience and lessons, keep optimizing, and fulfill the standardized design of FLNG ahead, which laid an important foundation for today's project. We're looking forward to working with Eni, suppliers and all the partners to deliver an excellent project that we all can be proud of."
About Wison (Nantong) Heavy Industry Co.Ltd
Wison (Nantong) Heavy Industry Co. Ltd, (an affiliate of Wison Offshore & Marine) a leading provider of clean energy technology service and solutions, is committed to providing the energy industry with highly integrated EPCIC solutions, including floating LNG facilities, modularized LNG plant, floating gas-to-power facilities, floating wind power and other clean energy solutions. Based on a track-record of successful project delivery, the experienced Wison team applies its expertise in technical innovation and two world-class shipyards to provide EPC services that meet the highest international quality and safety standards.
About Eni
Eni is an integrated energy company whose dedication to the energy transition translates into tangible actions aimed at achieving carbon neutrality by 2050, with the objective of preserving the planet and promoting an efficient and sustainable access to energy for all. Eni operates in 69 countries and employs more than 31,000 people. Eni is active at every stage of the energy value chain: from natural gas and oil to co-generated electricity and renewables, including both traditional and bio refining and chemicals.