(December 19, 2018, Shanghai) Wison Group Holding Limited ("Wison"), a diversified group company focusing on energy and chemical services, signed a comprehensive strategic cooperation agreement with Shanghai Branch of China Export & Credit Insurance Corporation("Sinosure"), which is a state-funded policy-oriented insurance company to promote China's foreign economic and trade development and cooperation. Sinosure will provide Wison Group with comprehensive credit insurance and credit management services, including medium and long-term export credit insurance, short-term export credit insurance, buyer default insurance, credit management, credit investigation, business consulting and so on. Based on Wison's unique advantages in energy and chemical integration solutions, the cooperation will provide dual support of "Technical + Financing" for its customers, and actively boost development of Chinese energy and engineering enterprises in overseas market, especially the countries participating in the "Belt and Road" initiative. During the period of cooperation, both sides will strive to achieve the target that overall scale of bilateral business cooperation in export credit insurance exceeds 10 billion US dollars.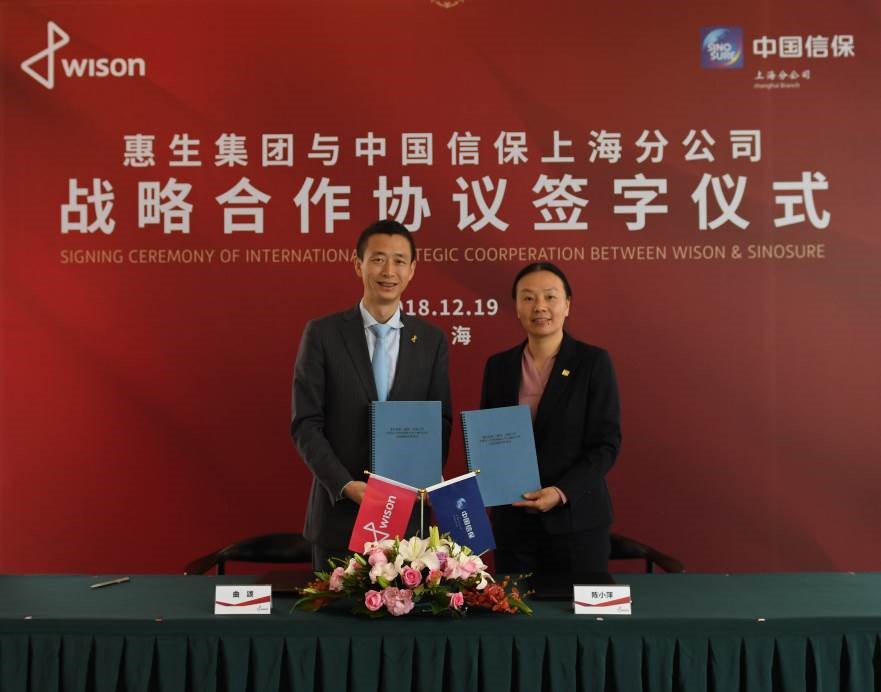 In order to fully implement the spirit of the 19th CPC National Congress and the second and third Plenary Session of the 19th CPC Central Committee, earnestly actualize the requirements of the Central Economic Working Conference and the National Conference on Financial Work, and fully serve the construction of the "Belt and Road" initiative to promote Chinese enterprises to "go global", Sinosure will give full play to its resources and advantages in export credit insurance, and fully support the development of Wison Group in overseas engineering, procurement and construction, LNG industrial chain solutions and module fabrication, overseas investment and other business areas, and reduce the risk of foreign exchange collection. Both sides will adhere to positive, comprehensive and innovative cooperation, and continuously expand collaboration in the aspects of depth and scope.
Mr. Qu Song, President of Wison Group, said that Wison's international development was inseparable from the great support of Sinosure. In recent years, Sinosure has provided tailor-made comprehensive credit risk solutions for Wison's project bidding and overseas investment plans in Europe, Southeast Asia, North America and other regions. Facing the complicated and ever-changing overseas market situation and potential political risks, the strategic cooperation between Wison and Sinosure will accelerate Wison's strategic layout alongside the "Belt and Road", and realize its strategic upgrades and digital transformations to deliver integrated solutions with more international competitiveness to customers.
Ms. Chen Xiaoping, General Manager of Shanghai Branch of Sinosure, also mentioned at the signing ceremony that in response to Chinese government's call and market demand, it is Sinosure's mission to implement the "go global" strategy and support Chinese companies' international development through strong policy-based financial services. As the only policy insurance company in China, Sinosure has continuously helped companies grow in the overseas market in terms of risk prevention, financing promotion and export promotion. It has always been committed to improving the ability of export enterprises to resist risks in the international market and to help Chinese enterprises go global. In the cooperation with Wison Group, Sinosure will play a supporting role in foreign trade and economic development via export credit insurance, and promote domestic products with independent intellectual property rights, especially in overseas engineering, procurement, construction, LNG industrial chain solutions and module fabrication, etc. to promote the upgrading of Shanghai's manufacturing and production services and the formation of high-end marine industry clusters.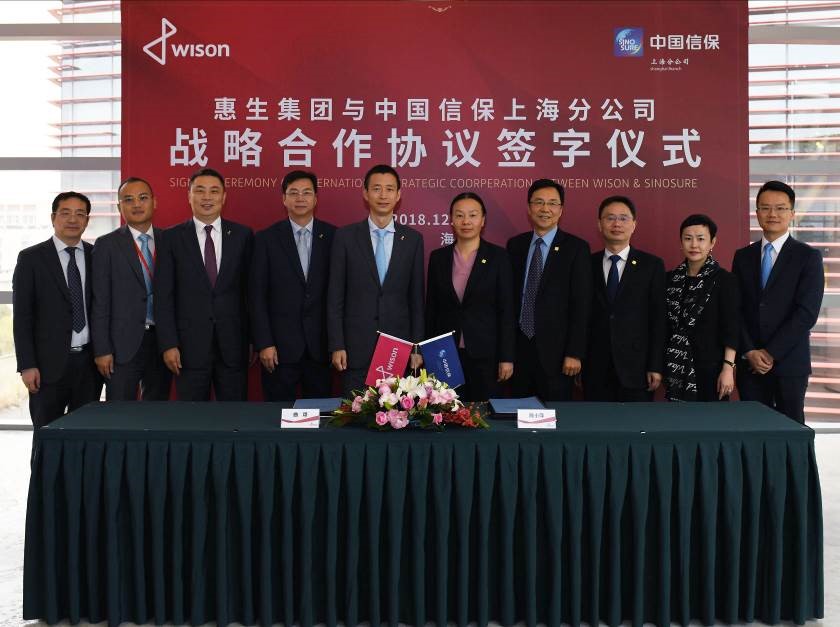 Both sides agreed that Wison Group will take full advantage of Sinosure 's professional services in risk management to strengthen its internal risk management, ensure stable operation and achieve healthy development. To achieve this goal, Sinosure will provide Wison Group with "one-stop" express services and "green channel for claims settlement" to help them expand financing channels and enhance their ability to resist risks.